Airstrike at Vinnytsia airport in Ukraine kills 9; France warns Russia against blackmail over Iranian nuclear talks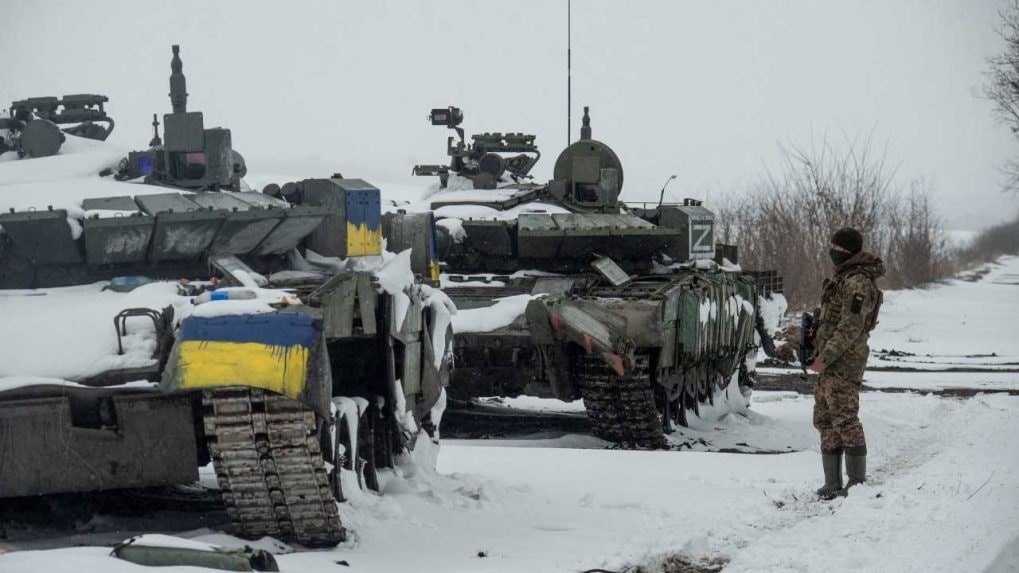 Live updates from the Russia-Ukraine war:
Russia's invasion of Ukraine has entered its 12th day after what Ukrainian authorities have described as increased shelling of encircled towns and another failed attempt to begin evacuating hundreds of thousands of civilians from the southern port besieged Mariupol. Russian and Ukrainian forces had agreed to an 11 a.m. ceasefire on Sunday, but Ukrainian officials said Russian attacks quickly closed the safe passage corridor. Another ceasefire was to begin Monday morning. A third round of talks between Russian and Ukrainian leaders was scheduled for Monday. More than 1.5 million Ukrainians have been driven out of the country. Ukrainian President Volodymyr Zelensky urged his people to continue resisting, and Ukraine's Foreign Minister said more than 20,000 people from 52 countries had volunteered to fight in Ukraine's new international legion. Russian President Vladimir Putin has compared Western sanctions against Russia to a declaration of war.
Here is an overview of the key things to know about the conflict:
Violence again halts planned civilian evacuations: Russia announced a ceasefire from Monday morning and the opening of humanitarian corridors in several areas to allow hundreds of thousands of Ukrainian civilians to flee the fighting, even as its armed forces continued to shell Ukrainian cities. Ukrainian Interior Ministry adviser Anton Gerashchenko blamed Russian artillery fire for halting a second attempt in as many days to evacuate around 200,000 civilians from Mariupol, where food, water and drugs are rare. A day earlier, Ukrainian officials had also said Russian artillery fire and airstrikes had prevented residents from leaving. Putin accused Ukraine of sabotaging the effort. Russia has sought to cut off Ukraine's access to the Sea of ​​Azov to the south. Capturing Mariupol could allow Russia to establish a land corridor to Crimea, which it annexed in 2014.
What else is going on in the field?
Russian forces launched hundreds of missile and artillery attacks across the country, including powerful bombs dropped on residential areas in Chernihiv, a city north of the capital Kiev, Ukrainian officials said. But a kilometer-long Russian armored column threatening the capital remained stuck outside Kiev. On Sunday evening, heavy shelling also hit Mykolaiv in the south and Kharkiv, the country's second city. Efforts to evacuate residents of the Kyiv suburbs of Bucha, Hostomel and Irpin on Sunday were mostly unsuccessful. A senior US defense official said on Sunday that the United States believes about 95% of Russian forces that had been deployed around Ukraine are now inside the country. Ukraine's air and missile defenses remain effective and utilized, and the Ukrainian military continues to fly aircraft and employ air defense assets, the official said.
Ukrainian forces were also defending Odessa, Ukraine's largest port city, against Russian ships, Ukrainian presidential adviser Oleksiy Arestovich said. The Russian Defense Ministry on Sunday announced plans to strike Ukraine's military-industrial complex and alleged that Ukrainian forces were plotting to blow up an experimental nuclear reactor in Kharkiv and blame Russia for it. The ministry provided no evidence to support its claims, which could not be independently verified.