As Putin closes in on Xi, who among Western leaders will rise like Winston Churchill?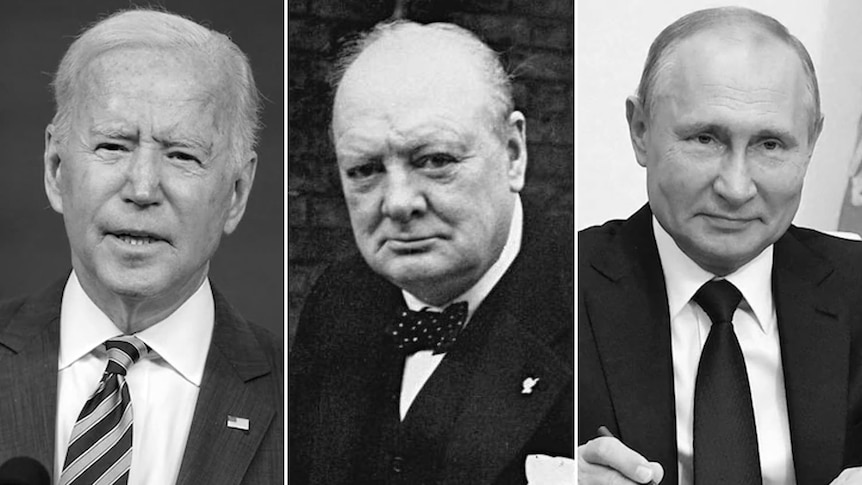 At the height of the Second World War, with Hitler's army marching across Europe and Britain under direct and sustained attack, Winston Churchill rose in the House of Commons to bolster resolve of his nation.
The British Prime Minister warned that British troops were facing "very tough fights, heavier than anything we have seen so far in this war".
Britain, Churchill said, faced an invasion "in a very serious and acute form". He called for "the most intense efforts, perfect unity of goal … relentless tenacity". Only then, he said, could Britain "fitly play our part in the stupendous global drama in which we are now embroiled".
Churchill was an imperfect man, an imperfect leader who had survived triumph and disaster. During World War I, he had been sacked from the war cabinet for his involvement in the disastrous Gallipoli campaign.
Seen through the eyes of today, he is often portrayed – and not unfoundedly – ​​as a racist and an imperialist. The weights are further added to the Churchill Historical Legacy scale.
Yet, in the midst of the war, Churchill offered certainty and determination. There was no room, at least not publicly, for self-doubt.
Who among today's leaders in the West speaks with such clarity? Joe Biden? It speaks of a great battle of democracy against autocracy. But who believes him?
After the ignominy of the American withdrawal from Afghanistan, where is the American determination?
Biden says betting against America is wrong. But the Taliban did it and, after 20 years of war, they emerged victorious. American troops leave and Taliban fighters take over the country.
Imagine Churchill offering Hitler an invitation like Biden's
China is betting against America. North Korea is betting against America. Vladimir Putin, with more than 100,000 troops massed on the Ukrainian border, is most certainly betting against America.
Why wouldn't he? Last month, Biden openly pondered how the West might tolerate a small-scale Russian invasion. "It's one thing if it's a minor incursionhe said, "and then we end up arguing about what to do and what not to do, et cetera. »
Well, there is an invitation to Putin. Imagine Churchill offering the same to Hitler.
The Führer was certainly imagining his chances against Britain, but he would never have doubted that Britain would fight.
Putin has seen a succession of American presidents during his two decades in power in Russia. He restored Russian power. In the absence of American will, he invaded Georgia, supported the Assad regime in Syria, waged war in Ukraine, annexed Crimea, reinforced his army and accumulated Russia's foreign currency reserves.
Now he is openly preparing for an invasion of Ukraine and the West, led by the United States, is still dithering or talking in low tones. The United States threatens sanctions when Putin threatens war.
In Europe, NATO allies like Germany are worried about the impact of the loss of Russian energy supplies. France speaks of strategic autonomy – a foreign policy not entirely without America but apart from America.
Putin, meanwhile, is getting closer to China's Xi Jinping, with both men now believing that history is on their side.
Xi has threatened Taiwan, claimed and militarized disputed islands in the South China Sea, and used economic coercion and threats against countries including Australia. It has cracked down on dissent, crushed democratic protests in Hong Kong, is accused of genocide against Uyghur Muslims and now hosts the Winter Olympics – a global sporting event meant to be a symbol of peace.
Xi Jinping and Vladimir Putin speak with certainty and directly challenge what has been called a liberal democratic world order while Western leaders give every indication that they do not believe in this order or if it is worth fighting for .
Apologies, loaves of bread and smiles
Last week, Prime Minister Scott Morrison appeared at the National Press Club to kick off a year of federal elections. This should have been his chance to speak seriously and directly to the Australian people at a time of enormous disruption, upheaval and threats.
What did we get? Questions about text messages between former New South Wales premier Gladys Berejiklian and an unnamed federal cabinet minister describing the prime minister as a 'horrendous person' and a 'psycho'.
Morrison has been asked to apologize to the people of Australia for his mistakes in handling the COVID pandemic. He was even asked if he knew the price of a loaf of bread.
Ahead of her speech, the media wondered whether outgoing Australian of the Year Grace Tame should have smiled at the Prime Minister.
It's one thing for a medium with a short attention span chasing the next headline to obsess over the next distraction. But it's an indication of how shaken Morrison is by the plummeting number of opinion polls that he's indulging in this stuff.
Imagine Churchill wondering if anyone was smiling at him, let alone wondering if he had ever bought a loaf of bread.
Mistakes and excuses? Do people facing death and disease, economic concerns and the drumbeat of war really want leaders to wallow in self-criticism?
The media loves these puns. But no apology would suffice. Admitting mistakes is not seen as a sign of leadership or strength, but of weakness.
What would Churchill do? Well, in another speech of comfort to a battered and bombarded nation, he said:
"I never gave the assurance of a quick or cheap victory… I never promised anything but the toughest conditions, big disappointments and many mistakes."
Now we are not in the middle of a world war. But we are certainly still dealing with a devastating pandemic that has been likened to a war. And we are on the brink of a potentially catastrophic conflict.
Serious conversations we don't have
There's another discussion going on in Australia, which we haven't heard much about at the National Press Club. The day after Morrison's speech, while pundits were still talking about nasty texts and bread, another conference was held in Canberra to discuss our military preparedness for war.
It was about how we build our sovereign defense capability. How strong are our supply chains? What is the capacity of our defense contractors? How dependent are we on the rest of the world? How to build more autonomy? Will we be able to meet the AUKUS nuclear submarine deal?
These are serious questions. It's about building a nation at a time when it's not talked about enough. Instead, we talk about identity groups and engage in culture wars.
The Defense Contractors Conference brought together serious people who know how high the stakes are right now. Australia – a country that doesn't even make cars anymore – is going to have to spend a lot more on defense and capability building.
This is a serious conversation we need to have. Because Xi Jinping and Vladimir Putin are certainly having this conversation. However, the conference received little media coverage, drowned in bread, text messages and smiles.
Churchill, visiting Britain's battered towns, said he saw the impact of the "maliciousness of our assailants". But while the buildings were "broken and gutted", he said, "he did not have his people's hearts broken".
Churchill then promised, in the darkest hour, that "everything will be better for the world and there will be a crown of honor to those who have endured and never failed".
Years of war, death and sacrifice awaited us. But the Prime Minister and his allies prevailed.
Churchill's language, his emphasis on values, endurance and sacrifice may seem so anachronistic today. Indeed, Churchill himself is just as likely to be ridiculed as praised.
But we can also wonder where this type of leadership will be when we need it.
Stan Grant is ABC's international affairs analyst and presents China Tonight Monday at 9:35 p.m. on ABC TV, and Tuesday at 8 p.m. on ABC News Channel and iview.