Disturbing neo-Nazi leaflets for the National Socialist Network surface in Bondi, Sydney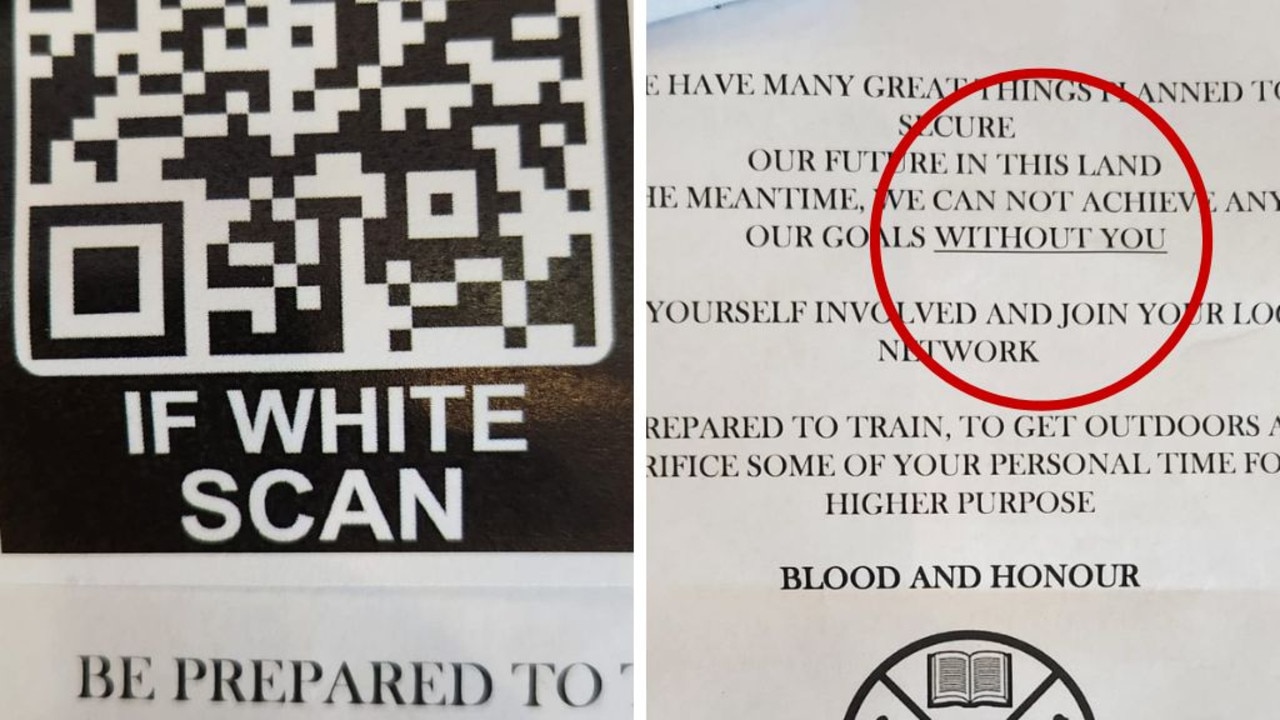 WARNING: Disturbing language
Leaflets promoting a neo-Nazi group that believes 'white Australians' are at risk of racial extinction have emerged in Bondi.
The Anti-Defamation Commission, a non-profit organization based in Melbourne, shared photos of the flyers with news.com.au. He said they were placed in letterboxes along Rickard Ave, Bondi Beach last week.
"We have great things planned to secure our future in this country. In the meantime, we cannot achieve any of our goals without you," reads the European Australia Movement leaflet.
"Get involved and join your local network. Be willing to train, get out there, and sacrifice some of your personal time for a higher purpose. Blood and honor.
An attached QR code, with the caption "if white scan", takes people to the website of Australia's largest white supremacist group, the National Socialist Network.
"We work to ensure the existence of our people and a future for white children," the website says.
The National Socialist Network states that group members must be "white Australians of non-Semitic European descent" and only accepts people with "capable body and mind".
It is a group that has praised terrorist mass murderer Brenton Tarrant, the Australian who killed 51 Muslim worshipers in mosques in Christchurch, New Zealand, in 2019.
NSW Police said they were aware of the leaflets and were "investigating".
"While we are not commenting on specific individuals or groups at this time, the community can be assured that we continue to monitor activity and rhetoric and will take action as appropriate," a spokeswoman said.
Some Adelaide residents reported European Australian Movement leaflets in their letterboxes in June.
The leaflet titled 'Calling all White Australians' said the group was 'building a network of White Australians in every town, suburb and city'.
He then had the same message seen on leaflets in Bondi.
Footage shared on the encrypted social media platform Telegram, which has since been deleted, showed a group of men posing in front of the Australian flag at the group's headquarters in South Australia and Port Adelaide, according to the Adelaide Advertiser.
One caption includes a quote from Nazi leader Adolf Hitler, while another refers to claims of "lying Jews in the media".
Other posts show the group sharing dinner to celebrate Hitler's birthday and three men giving a Nazi salute.
Anti-Defamation Commission chairman Dr Dvir Abramovich told news.com.au that anti-Semitism was on the rise in Australia and demanded a response from police and state governments.
"Imagine the immense pain a Holocaust survivor or their children would feel upon seeing such despicable flyers," he said.
"The bottom line is that we can't sit still while these domestic terrorists-in-waiting, ticking time bombs, are recruiting young white men and women to their Aryan cause," Dr. Abramovich said.
"Where far-right extremists congregate, promising a race war, physical violence is usually not far behind, and each of us is a potential target.
"There is a direct link between radicalization and lethal attacks, and at any time that ugly rhetoric can cross the line into murder in the real world, because one of their young members, who absorbs this poison, can come from it. to believe that any action is justified to save the white race from its "enemies".
"We don't need to wait for a Christchurch-type massacre in Sydney to designate these movements as terrorist organizations."
The National Socialist Network says on its website that it will "never use or advocate violence or terrorism to advance our movement".
Read related topics:
sydney