Inaugural race for Sikh Motorcycle Club in Sundre aims to build cultural bridges (11 photos)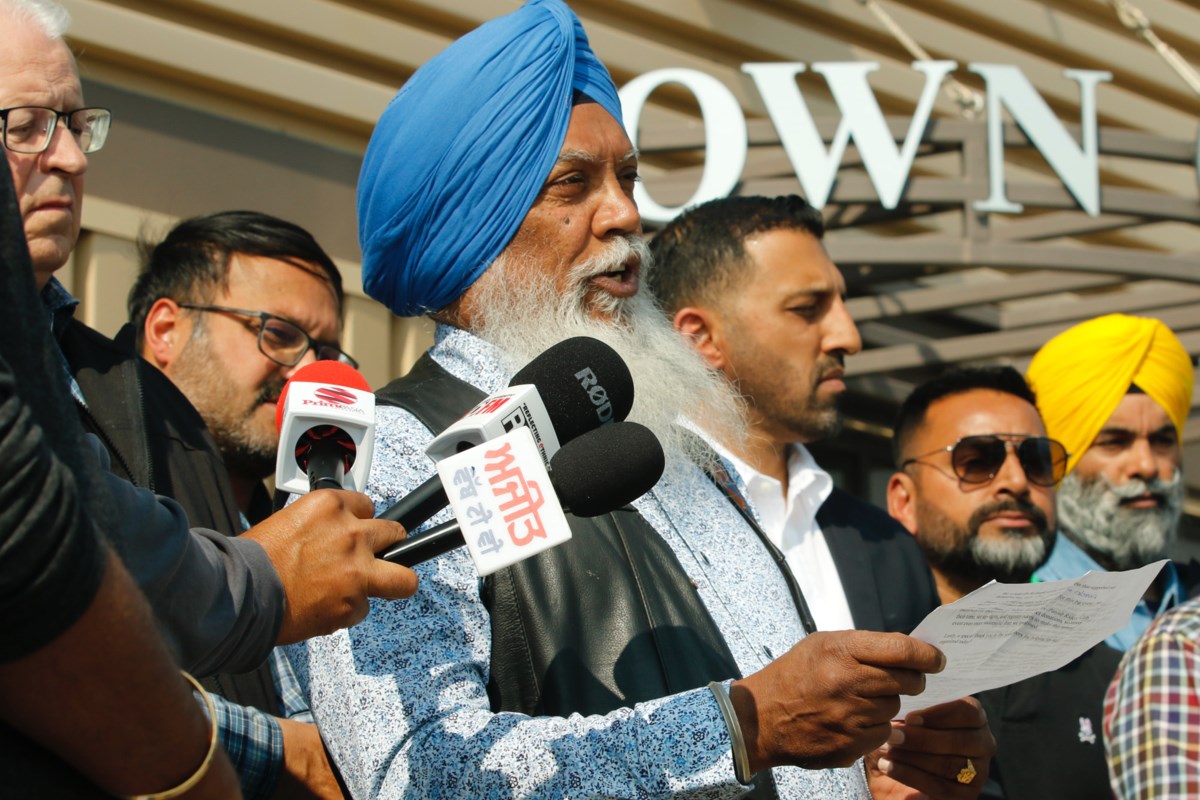 Two Sundre non-profit community service groups each receive $11,000 donation from Calgary's Dashmesh Culture Center and 5AB Riders
SUNDRE — A motorcycle club's ride through town last Saturday afternoon aimed to mend fault lines and foster better understanding while building cultural bridges.
Nearly 100 bikers from a Punjabi non-profit biker organization called 5AB Riders of Calgary rode on September 10 alongside a delegation from the Dashmesh Culture Centre. They were greeted by city officials in the large parking lot of the city administration building.
Organizers of the first Sikh Motorcycle Ride for Unity and Love for Humanity decided to visit Sundre this year in the spirit of goodwill following the appearance of a controversial political float featuring a racialized caricature of the leader of the NDP federal Jagmeet Singh when returning from Sundre in June. Pro Rodeo Community Parade.
When members of the motorcycle club approached the cultural center about the possibility of working together on an event to promote harmony, Amanpreet Singh Gill, president of the Dashmesh Culture Centre, said his organization suggested Sundre as the first beneficiary.
Acknowledging that entering the parade was the catalyst for the decision, Gill said the intention of the ride was to move forward and bring an apolitical and positive message of love in hopes of building cultural and culinary bridges.
"We are not here as Liberals, Conservatives or NDP," he told the Albertan. "The main message was community and love for humanity."
Gill added that the hike will become an annual event that will venture to locations across the province to support other nonprofit groups serving their respective communities.
"The ride will benefit charities across Alberta," Gill said. "It gives the Sikh community the opportunity to get out into communities to help big organizations and have conversations with Albertans about who Sikhs are and in turn other cultures, religions and ways of life. in Alberta."
The Plus 1 Emergency Food Hamper program run by the McDougal Chapel on the west side of town and the Greenwood Neighborhood Place Society were the recipients of the ride's donations, each receiving $11,000.
Parade floats controversy
The parade entrance that started it all involved a man driving a green tractor and wearing a mask meant to represent Prime Minister Justin Trudeau, with a manure spreader in tow labeled 'The Liberal' which was ridden by another man wearing a scythe turban and false beard in a racialized depiction of Singh.
Considered by many to be an inappropriate statement to make at a family event such as a community parade, those who organized the float and their supporters remain adamant the message was never intended to specifically target Sikh culture in general. , but rather the policies of political parties they oppose.
But those who found the float offensive felt that such nuance about the political comments would not be properly understood by young children who might instead interpret and normalize the bashing of a man wearing a fake turban and fake beard. Some have also said that such crude depictions of sacred religious icons are hurtful to the Sikh community.
A group of about two dozen people decided to gather at the vacant lot on the south side of Highway 27 across from the Shell gas station before the motorcade arrived. The organizers of this protest, who exposed the manure spreader, were calling for an apology for what they believe is an unfair portrayal of their political message before there can be a meaningful reconciliation.
Kulbir Singh Chawla was part of the group, which included former Yellow Vest activists who during the pandemic demonstrated against COVID restrictions.
"It's just a narrative conflict, I think," Chawla told the Albertan shortly after, the convoy passed in the direction of the town hall.
"All Sikhs who are here today generally think it was an attack on the Sikh religion so to speak, which it wasn't," he said. "It was just political satire."
Chawla, who in a video posted publicly on social media dated September 5, said he moved to Sundre about two months ago, described the town as a 'welcoming, accommodating and so friendly place' .
He also denounced "left-wing" political parties, accused members of the Dashmesh Culture Center of playing the victim and denounced the merry-go-round's gesture of good faith.
"The reconciliation and goodwill they show […] should be dismissed until he issues a public apology, as this is a matter in the public domain," Chawla said.
When asked why the group gathered in the vacant lot instead of meeting to engage in conversations in keeping with the spirit of the race at the town office, rally organizer Brenda Day said to Albertan not only were they not invited, but they were specifically told not to attend. When pressed, she could not say who ordered them to stay away.
Neither city officials nor the RCMP said such directives were issued.
"This is the first time I've heard of it," said Linda Nelson, the city's administrative director. "The spirit of this is, everyone is welcome. Everyone has their points of view. We are just here to make friends and communicate.
Sundre's top constable also said no one had been asked to stay away.
"No one from the RCMP told them they couldn't come here," the sergeant said. Trent Sperlie. "I actually had brief conversations with one of them and said it was a chance to break bread."
Middle ground
At the city's administration building, where flags were flown at half-mast in mourning after the death of Queen Elizabeth II, people shook hands and shared conversations before and after official speeches by dignitaries.
The mayor of Sundre said the municipality was willing to work with the biker club and the cultural center when these organizations approached the town.
"They wanted to come out and promote their bands here in Sundre because of the history," said Richard Warnock, referring to the float.
The mayor said he was asked by national media in the days leading up to the event if he thought the ride was a good idea.
"What I'm saying is that I don't see any negativity in this. Acts of friendship — no matter who the group or the culture — that's what it's all about," he said. "Come on, be friends, let's talk about it. We would welcome any group of riders or culture that wishes to come here and visit.
Devinder Toor, UCP MP for the Calgary-Falconridge constituency, also attended the event, which he called "a good opportunity for the Sikh community and the city of Sundre to come together".
Chawla also attended the rally at the city office, where among others he spoke with Harjit Singh Saroya, president of the Dashmesh Culture Center, who declined to be called a "left wing".
Saroya said that although he is a member of the UCP and still supports the Conservatives, the intention of the day was apolitical.
"We have Liberals, we have New Democrats," he said, adding that Sikhs come from all political walks of life and cannot be associated with one party.
"We are Albertans.
Beyond satire
Responding to Chawla's view on the nature of the float, Saroya said he went beyond political satire.
"We shouldn't do something like this in the future," he said, expressing the belief that turbans shouldn't be used in this way. "We don't want anyone involving these religious symbols to be used as a political stunt or anything."
George Chahal, Liberal MP for Calgary Skyview, who also spoke out, seemed to agree with Saroya.
"I don't think anyone should think that these kind of images and this approach to what they took, is political satire," Chahal told the Albertan.
People in a free and open democracy should of course be given the opportunity to engage in constructive discourse and respectfully disagree, he said.
However, hijacking culturally sensitive symbols is not the way to engage in good faith conversation, he said, adding that a family event like a community parade is "definitely not the time and place to air political grievances.
"I hope people who have participated in this way will learn from it and be better off in the future, and find ways to promote their political satire more appropriately," he said.
Resist calls to anger
Despite the history leading up to Saturday's race, Chahal said he had "good first impressions" of Sundre, which he had never visited before and described as a charming town.
The hospitality of the municipality and the residents he met that day was "wonderful", he added.
"After the incident, I was committed to going out, visiting and meeting with the city council, sharing our experiences and learning from each other," he said.
During his address, Chahal praised Canada's multicultural history. Regardless of their ethnocultural background, gender identity, religious beliefs or career aspirations, people from all over the world are seeking to settle in Canada, he said.
"New Canadians from countries like India, the Philippines, China, Nigeria, Somalia and Pakistan are coming to small towns in Alberta to find work and open businesses," he said. . "They follow in the footsteps of Ukrainian, Russian, Polish and German immigrants who settled in Western Canada generations ago.
Albertans have more in common than they set apart, he said, adding that the province is populated by people who just want the best for their families and communities.
He also expressed his belief in "responsible disagreement and robust debate" as well as "civil and thoughtful discourse" and warned against reactionary outrage makers who prey on people's fears and attempt to pit "neighbors against neighbors in the pursuit of power at the expense of good government. »
"We must resist the call to anger. The best antidote to fear, misunderstanding and hatred is unity and love for humanity," he said.