Russia sends Chechen assassin to kill in Mariupol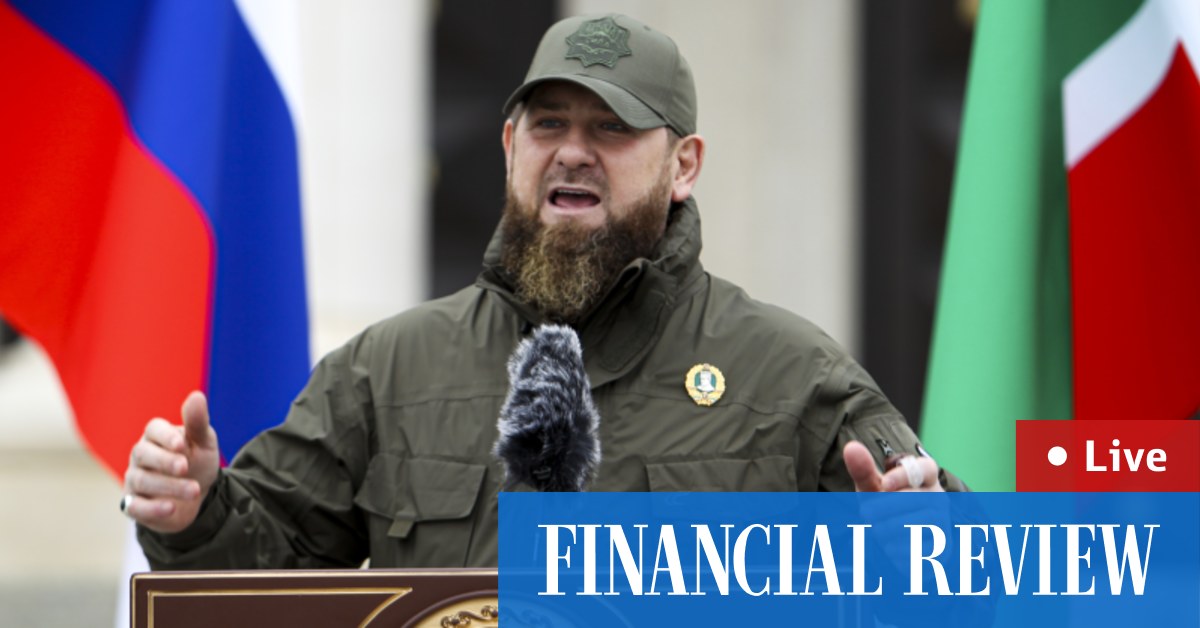 Video posted to social media yesterday showed a jovial man with a long gray beard firing his automatic rifle around a corner and towards a burning building, thick black smoke billowing from it.
The soldier laughs for the camera, enjoying the battle.
But there is actually nothing pleasant about Ruslan Geremeyev. He is a Chechen warlord and the prime suspect in the Moscow assassination of Boris Nemtsov, who at the time he was shot in 2015 was Vladimir Putin's fiercest rival.
Geremeyev has now been sent by Putin to do his dirty work in Mariupol, the southern Ukrainian city that was reduced to rubble by Russian artillery. Thousands of civilians were killed and hundreds of thousands fled. But what is left of Mariupol is now being fought in street-to-street fighting, with the remaining Ukrainian troops digging in for guerrilla warfare they have little chance of surviving.
Geremeyev, a major in the northern battalion of the Chechen Republic, was placed at the forefront of the propaganda campaign. A video shows Geremeyev hosting the Chechen flag atop a civic building in the city. Seven years earlier, he had been named by the Nemtsov family's lawyer as the perpetrator of the murder while Russian investigators declared him a suspect in the assassination to allow him to flee to the Gulf before he could be questioned .
Today Geremeyev, 43, leads the Russian assault on Mariupol.
He is cheered on by Ramzan Kadyrov, the feared Chechen leader, whose father Akhmat Kadyrov graces the flag hoisted on Mariupol's municipal building. Kadyrov, 45, flew to Mariupol yesterday, posing for photos with Chechen fighters as if they were an amateur soccer team that had just won a local derby. Putin had promoted Kadyrov to major-general five days ago as a thank you for the Chechen Republic's support. No less than 10,000 Chechen fighters are believed to be involved. Yesterday Putin promoted Kadyrov a second time to lieutenant general.
"Ramzan Akhmatovich [Kadyrov] came to Mariupol to talk, cheer up the guys, provide additional technical materials, adjust and finalize the strategy for the next two days to liberate Mariupol," Akhmed Dudayev, a spokesman for Kadyrov, said in a statement. reported in the Russian media.
It is unclear to what extent the Chechen involvement is pro-Kremlin propaganda at a time when Russia is being pushed back by other parts of Ukraine. It is unclear how long Ukrainian troops still in Mariupol will be able to keep Russian troops at bay.
To the north of the city, soldiers from the "Somali" battalion raised their flag above the municipal building. The battalion is a military unit of the self-declared People's Republic of Donetsk, the Russian-backed breakaway region that Putin illegally declared an independent state. The battalion, official name 1st Separate Tank Battalion Somalia, was given this name because its former commander believed its fighters to be as fearless as the Somalis.
But Ukraine refused to return Mariupol. If Kremlin forces capture the city, it opens up a land corridor for Russia, from Crimea to the separatist-held Donbass. It would also potentially free up Russian troops to advance north, threatening to encircle Ukrainian forces to the east. But that's just a scenario. It is likely that the Russian troops are exhausted and out of supplies. Even if Mariupol falls, Russia will have to deploy considerable force to hold him back.
A Ukrainian soldier serving in the Azov regiment speaking to the Daily Telegraph via a social media channel was provocative. "The invaders have already entered the city, but they haven't achieved much success yet," he said. "Every day there are battles for every street, for every house. We Ukrainians have been surrounded and it is difficult to fight from all sides, but we are still holding on.
The conditions are impossible. Every night, Russian bombers arrive, attacking Ukrainian positions.
"So the planes fly from four in the morning, they fly from Rostov: two planes each. One bombs infrastructure and the second launches missiles at "suspicious" houses. But my brothers and I have not been affected yet.
"We will fight to the last drop of blood. I believe in the help of Ukrainian forces from other directions. Our goal is to hold on – the enemy will soon run out of food and their gear won't be able to last forever.
Volodymyr Zelensky, the Ukrainian president, praised the bravery of his soldiers in a city attacked for weeks. Mr Zelensky said he offered his troops the chance to run off and wave the white flag, but they refused to do so.
"I tell them: guys, I understand everything, we will come back. But if you feel you have to be there, you think it's the right decision and you can survive, please do it," the president told his troops.
"I understand what it looks like for the military…I offered them a choice.
"They said, 'We can't leave. The wounded are there. We will not abandon the wounded".
A senior Ukrainian official has dismissed reports that Russian troops have taken full control of Mariupol. "He hasn't fallen this far," he said. "Russia presents the situation this way, but there are still a few positions where our forces hold the defense of the city."
The mayor of Mariupol seemed less defiant. "It's not all in our power," Vadym Boichenko said in a live TV interview. Mr. Boichenko pleaded for a complete evacuation of the remaining population of Mariupol. Before the start of the war, 400,000 people lived there and in the four weeks that followed, at least a quarter of a million people fled.
"About 160,000 people are today in Mariupol, where it is impossible to live because there is no water, electricity, heating or connection," the mayor said. "It's really scary."
But the reality is that despite the reputation of Chechen troops as fearsome and battle-hardened fighters, it is unclear whether they were more effective than the rest of the Russian forces.
Just two weeks ago, Kadyrov pleaded with Boris Johnson to lift the sanctions against him. All he wanted to do, he said, was "to indulge in elevated thoughts at the National Portrait Gallery". But the dice are cast. Putin's delusional invasion instead blocked him in Mariupol.