The St. Pete Pride 2022 guide, a street carnival, a huge parade and Todrick Hall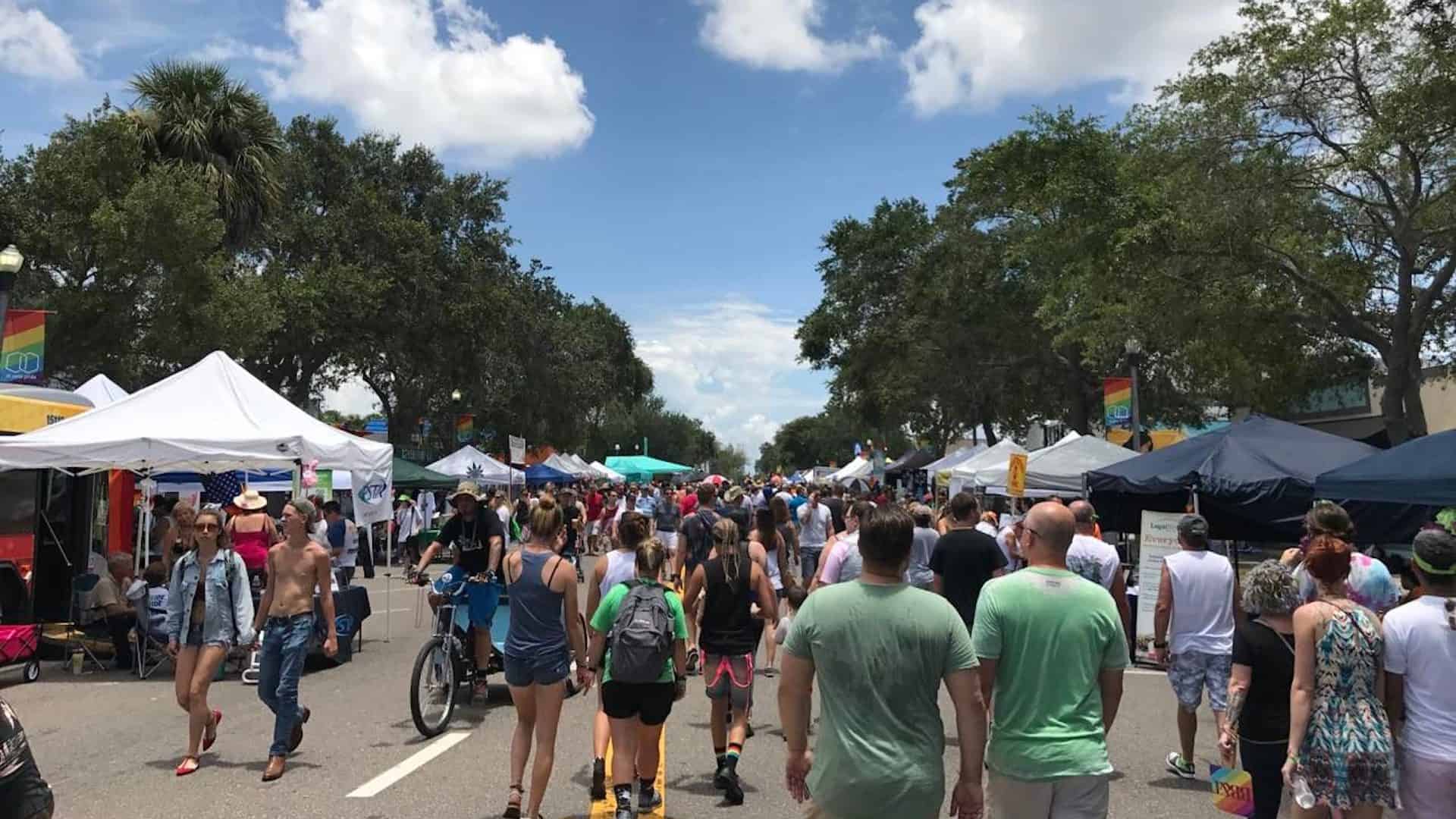 Florida's biggest LGBTQ+ Pride celebration is back, and the 2022 calendar of festivities is busier than ever. Kicking off in June (with events even starting in May), this year's St. Pete Pride is set to be its biggest ever as the month-long festival celebrates its 20th anniversary.
Not only is the Pride Parade back for the first time since 2019, but this year's festivities will also include a Pride concert, June 19th celebration, and a massive carnival that will shut down the streets of Grand Central. With the expanded schedule of events and the return of the parade, organizers say they expect it to be the busiest St. Pete Pride in its 20-year history, placing it in the Top 10 most great celebrations of the country's pride.
Local organizations are also doing their part to welcome Pride's full-scale return to the Burg. Metro Inclusive Health's Inclusivitea Café is filled with unique Pride goodies and giveaways you won't find anywhere else, and hosts a month-long series of events including community yoga, youth socials, parties games, workshops, meetings and more. Check their calendar for more details.
As organizers expect more than 300,000 attendees during the month, St. Pete Pride will continue its mission "to strengthen St. Petersburg's legacy of inclusion and diversity, providing a safe space for education, l self-exploration and celebration of our LGBTQIA+ community and allies. By championing equity and representation, we aim to create an open and compassionate community where people are empowered to thrive. No matter who they are.
The 20th Annual St. Pete Pride Brings An Incredible Lineup Of Events To The Burg
As part of the June record, St. Pete Pride hosts activities for people of all ages, indoors and outdoors, day and night. Scroll down and mark your calendar for your favorites. Learn more about St. Pete Pride here.
14th Annual Miss St Pete Pride Pageant
What: An evening of incredible entertainment, music and fierce competition featuring the best of the region's queens! Prepare to be dazzled by a grand display of party dresses, drag talent and more glitz than you can imagine!
When: May 22, 5 p.m.
Where: Coastal Creative
St. Pete Pride Launch Party
What: This ticketed event will bring hundreds of attendees to Sirata Beach Resort to celebrate the start of the Pride season. As the sun sets over the Gulf of Mexico, attendees can enjoy a DJ, drag performances and cocktails.
When: June 1, time to be determined
Where: Sirata Beach Resort
Queer-E-Okee
What: The newest addition to the St Pete Pride lineup of events will bring hundreds to The Palladium theater for a hilarious, love-filled evening of music and camaraderie. Celebrity host Carson Kressley will present a roster of local queer musicians who will perform some of the most beloved songs from the LGBTQIA+ community as the audience sing along with the help of karaoke-style lyrics projected onto a large screen.
When: June 11, 7 p.m.
Where: The Palladium
Sandra Bernhard
What: For one night only and as part of St Pete Pride's 20th anniversary lineup, Sandra Bernhard will perform live at the Palladium Theater this June 12. A pioneer of the one-woman show, Bernhard will bring a very unique and loud mix of cabaret, stand-up, rock-n-roll and social commentary to her stage performance.
When: June 12, 7 p.m.
Where: The Palladium
Stonewall Reception
What: This exclusive VIP reception at the James Museum will bring together prominent figures from the community including St Pete Pride sponsors, community partners and government officials. Guests will mingle over drinks, light snacks and entertainment.
When: June 17
Where: The James Museum
LGBTQ+ Youth and Family Day
What: This joy-filled event will bring together thousands of LGBTQ+ youth, queer families, and allies north and south of Straub Park for this one-of-a-kind pride event. Last year's event was a remarkable reflection of St. Pete's diverse and open-minded community, with many attendees being Allied families. Guests will enjoy family-oriented activities, vendors, and live entertainment on the main stage.
When: June 18
Where: North and South Straub Parks
shades of pride
What: Featuring host Ts Madison, Shades of Pride will celebrate the history of Juneteenth while showcasing the art and culture of our black and brown LGBTQ+ brothers and sisters. Join us to learn more about the profound impact of black and brown culture on the LGBTQ+ community as a whole and its deep roots in the evolution of Pride.
When: June 19
Where the [email protected]
Friday night concert
What: This year's waterfront concert at Straub Parks will be ticketed and will feature big-name national artists, Todrick Hall and Pussy Riot, paired with the area's top LGBTQ+ artists. Thousands of participants
stroll the waterfront, enjoying vendors, food trucks and interactive activities.
When: June 24
Where: North and South Straub Parks
pride parade
What: One of the nation's largest pride parades will bring tens of thousands of marchers and participants to the St. Pete waterfront to celebrate our community. The largest of St Pete Pride's signature events, the parade brings together members of the LGBTQ+ community and their allies to enjoy the parade and a large-scale event. National musical artists will anchor a dynamic lineup on the main stage that will also feature Florida's most beloved LGBTQ+ talent.
When: June 25
Where: Downtown, EDGE and Grand Central
street carnival
What: The popular St Pete Pride Sunday street festival will be reimagined as a carnival, bringing tens of thousands of people of all ages to the Greater Central District to enjoy block after block of entertainment, vendors, food, partners communities and interactive carnival games. With multiple performing stages, roving street performers and hundreds of participating businesses and organizations, there will be something for everyone.
When: June 26
Where: Greater Central District
Transtastic
What: St Pete Pride welcomes the trans community and friends with an intimate event featuring entertainment, drinks and light snacks.
When: June 28
Where: Museum of Fine Arts, Saint Petersburg