The Vineyard Gazette – Martha's Vineyard News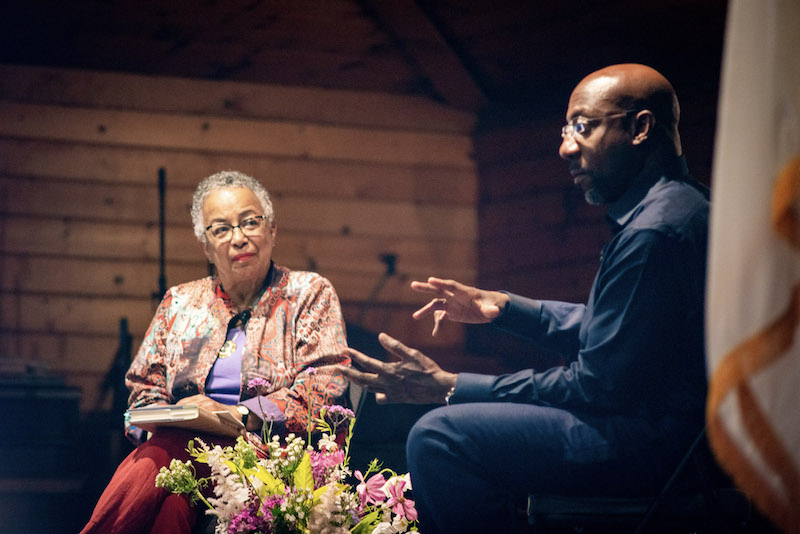 Raphael Warnock may be Georgia's first black US senator, but he doesn't consider himself a politician.
"I'm not in love with politics, I'm in love with change," Mr Warnock said. "I got involved in something as messy as politics with the hope that somehow the things I've worked on all my life, maybe I could work in this domain."
It was that spirit of change that ran through the senator's speech on the opening night of Martha's Vineyard Author Series, which runs through mid-August. Before a sold-out crowd Thursday night at the Chilmark Community Center, Mr. Warnock spoke about both his religious faith and his faith in American democracy.
"Democracy, to me, is the political implementation of a spiritual idea," Mr Warnock said. "The notion that we all have a spark of the divine within us, so we must have a voice in directing our country and our destiny."
Mr. Warnock spoke with Barbara Phillips, a lawyer and civil rights advocate. The two were there to talk about A Way Out of No Way, Mr Warnock's memoir which was released earlier this month. Before the talk began, author series founder Suellen Lazarus greeted the crowd and introduced the pair.
"The last time we had a series of authors here in this room was in 2018," Ms. Lazarus said. "Four years later, we get to open with Senator Warnock."
During the conversation, Mr Warnock spoke of his journey from his youth in social housing to becoming a pastor and running for office. He weaved lessons from the Bible with lessons from American history to share his wisdom about the country's current situation. Often, Mr. Warnock stopped short of disclosing everything about himself so as not to divulge the book too much.
"I don't want to tell you, you have to read the book," he said half-jokingly at one point.
For more than 15 years, Mr. Warnock served as pastor at Ebenezer Baptist Church in Atlanta, where Martin Luther King Jr. once held the same position. Mr. Warnock travels from Washington, DC to Atlanta every Sunday to preach, and said his faith has long formed the basis for engaging in the political and social process.
"The spiritual must meet the practical," he said. "All the great religious traditions engage us in the world."
Georgia was represented in the Senate by Herman Talmadge and Richard B. Russell, both segregationists, when Mr. Warnock was born in 1969. Mr. Warnock winning his seat with Jon Ossoff, the state's first Jewish senator, is a sign of American progress. , he said.
"Talmadge said 'we love the Negro in his place, and his place is at the back door,'" Mr Warnock said. "Well, I'm now sitting in his place."
But if the election of Mr. Warnock and Mr. Ossoff represented the expansion of democracy, the events that followed represent its contraction, he said. Both men officially won the election on January 5, a day before the storming of the United States Capitol. Both of these moments, and what they represent, are significant to the history of our country, Mr. Warnock said.
"January 6th is part of who we are, and always have been, but guess what, January 5th is too," he said. "We have to decide what America we are going to be."
Mr Warnock cited the late civil rights leader John Lewis as an example of why it is important not to give in to these periods of contraction. Mr. Lewis and a legion of activists crossed the Edmund Pettus Bridge fighting for black people to have the right to vote in Alabama in 1965, knowing they could be beaten and killed. But they did it because the fight to bring the country to its promise of freedom and equality for all was so important, he said.
"We talk about the movement as if these victories were inevitable; they were entirely unlikely," Mr Warnock said. "And yet people kept the faith and kept pushing and they kept fighting. So who are we to give up at a time like this?
Senator Raphael Warnock will deliver this Sunday's sermon at the Tabernacle at Oak Buffs Campground, in a combined service of the Camp Meeting Association, First Congregational Church of West Tisbury and Union Chapel. Services begin Sunday at 9:30 a.m.